BIOEDUCATION
(360) 749-9814
In my 24 years as a fish and wildlife biologist for the Washington Department of Fish and Wildlife, I worked with deer and elk, beavers and badgers, eagles and egrets, turkeys and turtles, fish and frogs, snakes and salamanders, and everything in between. I am a professional biologist and the father of four daughters and so by definition, I am a teacher.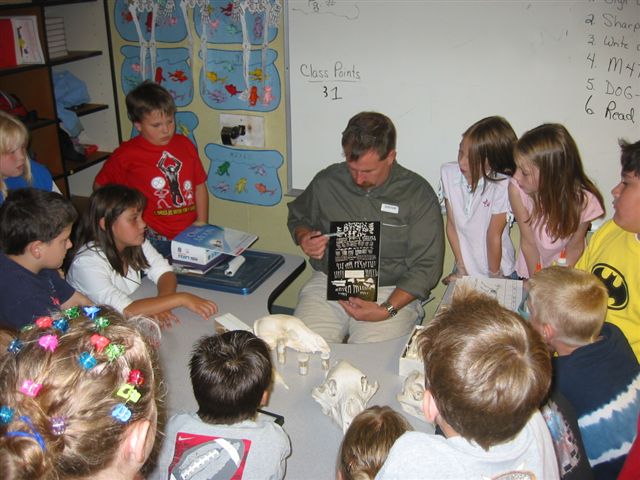 My favorite part of my many official duties involved presenting my enthusiasm and excitement about our natural resources to school groups as varied as the kindergarten class at Toutle Lake Elementary to the fifth graders at Butler Acres in Kelso, to the first graders at Mary Bridge in Tigard, OR, to the Napavine High School Science classes on wetland ecology. My programs range from dissecting the owl pellets I collect and naming the bones inside, with a healthy dose of owl biology thrown in, to discussing the various kinds of teeth in rodents, marine mammals, monkeys, and snakes (using skulls from my own extensive collection), to discussing in-depth specifics and life histories of fish and wildlife species, to hands-on wetlands work, to elementary paleontology and comparative anatomy, to the habitat impacts of development, to funny stories from my years as a field biologist.
I found that the most rewarding part of my position was not handling eagles, trapping salmon, wrestling deer, mist netting bats, or digging for salamanders, but the one-on-one interaction with young people in a classroom or outdoor setting. They are so eager to learn, so amazed by real skulls, so inspired by the work done by biologists. And that is why we do this work, to inspire, to excite, to educate. We come to individual classes to work with any grade levels you would like, work in a small group (<30) setting (to keep it hands-on), dissect owl pellets, talk about skulls, lead field trips, start Adopt-a-Stream programs, present habitat biology, and help better prepare the young people in your school for the critical thinking skills needed.
Please review the testimonials from both students and educators who have asked me to speak in their classrooms or in field settings. And check out an upcoming adult class we'll be doing for the Wilderness Awareness School in Duvall, WA. We will gladly provide you with professional and personal references if you so desire. Please feel free to contact us via e-mail or call us at 360-749-9814 to arrange curricula, times, and dates. Check our fee schedule here.
We look forward to hearing from you and helping you and your teachers inspire the students in your district and schools to lifelong learning and excitement about critters and their biology.